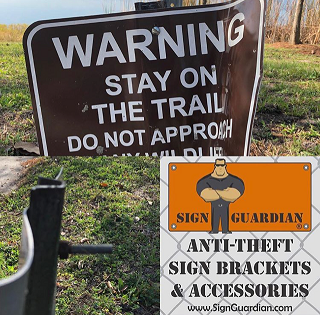 Safely Mount signs to U-Channel and Square Channel posts!
Summer is here and that means lots of outdoor activities!  Is your trail signage safely installed?
Bike trails, hiking trails and camping areas will be full of recreational thrill seekers!  The SignGuardian SG-U is designed to safely and securely mount signs to U-Channel (SG-U2) and Square Channel (SG-U2.5) posts.
The primary safety benefit of this bracket is that the anti-theft bolt will sit flush against the back of the post.
During a recent hike, I came across this sign installation (Notice the rusty bolt protruding from the back of the U-Channel)!
Enter coupon code "SUMMER" for a 10% discount!